I received such overwhelming positive response to my article on the Sue Lyon interracial relationship to former pro football player turned photographer Roland Harrison that I went back to the same era to write about another black on blonde celebrity interracial marriage. Early interracial sex relationships forged the way our culture viewed black men married to white women and vice versa.
Black on Blonde Relationships
Quincy Jones is a well known music producer, composer and performer. Jones is not 100% black however, though he considers himself to be African American. Jones underwent genetic testing and found that his father was half Welsh (which as my Saras Playroom blog has discussed in a previous article, Welsh blood has North African Moorish influences) and that on his mother's side, distant DNA proved that he was a descendant of slaves who George Washington's family owned, not only owned, but also Washington family white DNA had commingled with. Jones first relationship and marriage was to a biracial woman, his high school sweetheart. His next marriage was to a sexy Swedish model, actress and singer, Ulla Andersson, with whom he had a son and a daughter. Quincy Jones III was his son from that marriage. Most recently, Quincy Jones III, a documentary filmmaker, has been in the news regarding legal controversy over the 2009 documentary he produced featuring rapper Lil Wayne which revealed Wayne's obsession with drinking a codeine cough syrup concoction known as Sizzurp (ironic?). So, in my research, Lipton was not the first blonde who engaged Jones in an interracial sex relationship, the Swedish blonde, Ulla Andersson was. It apparently was not unusual in the Sixties for Scandinavian women to seek out interracial sex relationships as May Britt married Sammy Davis, Jr. in 1960 and had three children with Davis. In fact, it's still not unusual for Scandinavian women to hook up with black men. Scandinavian women are known to take sex vacations to islands where black men will sex up the beautiful blondes (a future blog post at SarasPlayroom.com will reveal more about these Scandinavian interracial sexcapades).
Celebrity Interracial Marriage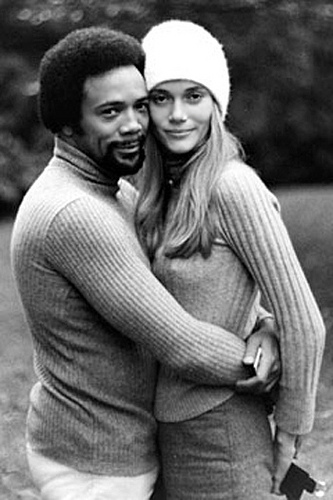 Lipton began her career as a model signed to the Ford Agency, then launched into acting and singing (she released several successful pop tunes). She is primarily known for her acting on the 60's show "The Mod Squad" which featured a trio of young hip cops who often worked undercover in the influential police drama. She later appeared in a recurring role as Norma on "Twin Peaks". Lipton and Jones received a lot of media buzz during the first year of their relationship and marriage which spanned 1974 – 1990. They had two daughters during their marriage, Kidada and Rashida. Even though this was another black on blonde interracial marriage for Jones, their marriage didn't seem to attract as much controversy as the the Lyon and Harrison marriage. Part of the reason for the lack of media obsession was because Lipton dropped out of the limelight and took a break from acting during her marriage to devote herself to her marriage and family. Personal repercussions were not as crystalized for Lipton as they would have been for Lyon who was actively seeking Hollywood film roles. In addition, Quincy Jones was extremely successful and highly regarded in the music industry while Harrison was struggling and relying on the mercy of the European fashion world to hire him for photography gigs. The shock of another black on blonde relationship was barely palpable for Jones. The most shocking element of his marriage to Lipton was their relationship began while Jones was still married to Ulla Andersson. Very quickly after his divorce from Ulla in 1974, Jones married Lipton and Lipton gave birth to their first daughter, yes, all in the same year.
Out-race Relationships
Interracial relationships are called "out-race" relationships by sociologists and sociologists have deemed many reasons why black men seek relationships with white women. Black men often take blonde white women as trophy wives and enjoy these relationships because they draw more attention to themselves or even show them as more powerful and successful than their white male counterparts. For white women, the attraction to being with a successful black man is usually not just the money that might come with his success, but the sexual prowess as well. Jones most recent net worth figure published by Forbes Magazine showed he is worth $300 million. Jones was serial with his interracial relationships. He also had a child with German actress Nastassja Kinski, was in a relationship with French actress Maryam D'Abo (blonde), Playboy Playmate and actress Kimberly Conrad (blonde) and Egyptian fashion designer Heba Elawadi (who sometimes colored her hair blonde). His most recent public relationship was a rare "in-race" relationship for Jones… with mixed race (Jamaican / Chinese) diva supermodel Naomi Campbell.
4 Responses to "Black on Blonde Celebrity Interracial"
2257 - DMCA Information - Contact - Rights and Permissions


By viewing this site you declare you are at least 18 years of age, consent to viewing adult-oriented material and that it is legal to view such material in your jurisdiction. If not, you must LEAVE now.