Celebrity Interracial Marriage: Lolita Star Marries Black Pro Football Player
Actress Sue Lyon will forever be known as the young blonde nympho in the classic film adaptation of Nabokov's "Lolita", but she also shocked the world with her celebrity interracial marriage at the age of 26 to former San Diego Chargers football player and fashion photographer Roland Harrison. Despite the free love of the 1960's and relaxation of social mores during that decade, the interracial marriage of a blonde starlet to a black man created an uproar and made it difficult for the newlywed celebrities to live in the U.S. The discrimination impacted Harrison with more severity as it became nearly impossible for him to pick up photography assignments in the States. The interracial couple moved to Spain where they lived without the aggressive American media scrutiny. Roland snapped photos in the European fashion meccas of Milan and Paris and Sue continued to act, appearing in several films including the "Evil Knievel" biopic.
Interracial Marriage Impact on Sue Lyon's Acting Career
While Lyon was married and divorced five times, her only biological child was a biracial daughter she had with Roland. The general conception was that Lyon's acting career went downhill after her controversial black on blonde marriage to Harrison. Lyon was no longer cast in starring roles in feature films due to Hollywood executives assuming that moviegoers would shun films featuring the blonde sex symbol. Lyon struggled in secondary and support roles after her divorce from Harrison. Times change. Only a few decades later, the movie-going public would not have been so shocked by the "taboo" love and celebrity interracial marriage between a black man and a white woman.
Sue Lyon Night of the Iguana Dance
Almost all of Sue Lyon's marriages were shocking to the public. She married first at age 17. The impulsive nuptials took place immediately after she finished up her film work on "Night of the Iguana". Her marriage to a screenwriter in his mid-20's attracted controversy due to Lyon's age and because her husband had literally just secured his divorce during filming of the black & white feature starring Richard Burton, Lyon, Deborah Kerr and Ava Gardner. After divorcing her screenwriter husband (who went on to pen the screenplay to "Blade Runner"), she married Harrison, then divorced Harrison upon the birth of her daughter. Her next marriage was both impulsive and strange for a beautiful movie star; she married an imprisoned convict in Colorado. Later, it was revealed that Lyon suffered from bipolar disorder which may have explained her manic behavior. Not only were Lyon's marriages shocking to the public, but also her early roles, in "Lolita" and "Night of the Iguana", were shocking due to their extremely sexual overtones in the early 60's.
Lyon stole scenes in "Night of the Iguana" with her sexy naivete. Two memorable scenes in the film even merit their own predictive Google searches: "Sue Lyon Night of the Iguana water"… and "Sue Lyon Night of the Iguana dance"… The dance scene features Sue Lyon in a beachside tourist cantina surrounded by dark swarthy Mexican mariachi players closing in on her as she dances a sexy solo dance, the camera focusing on her swaying hips, Lyon wearing tight pale country girl gingham shorts. The Mexican mariachis are dark-skinned, shirtless, primal… in contrast to Sue Lyon's pale skin, blonde hair, innocence. Later in the movie, the mariachis (clearly representing animalistic sexual desire in this film adaptation of a Tennessee Williams' play) seductively swarm in on an eager then resistant Ava Gardner on the beach. After the fact, "Night of the Iguana" set film buffs wondering if Sue Lyon felt an interracial sexual urge that could not be suppressed and if this prescient feeling culminated in her interracial relationship and marriage to Harrison.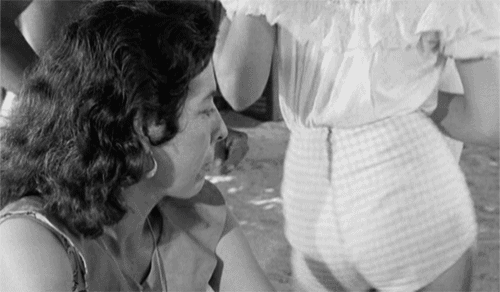 14 Responses to "Celebrity Interracial Marriage"
2257 - DMCA Information - Contact - Rights and Permissions


By viewing this site you declare you are at least 18 years of age, consent to viewing adult-oriented material and that it is legal to view such material in your jurisdiction. If not, you must LEAVE now.