If only the boring biopic, "My Week With Marilyn", had focused on a fantasy week Marilyn Monroe spent with the mystery black man featured in this snap. Who knows the depth of the Marilyn Monroe black cock lust. The story behind the photo that William Travilla, Marilyn's dress designer, revealed was the irresistible black mystery man and Marilyn spent the evening together at an almost exclusively black club in Los Angeles, something that just wasn't done in 1952. Travilla is also in the photo seated next to Marilyn. Known as the 5-4 Club and situated in South Central Los Angeles, the club was a famous all-black nightspot frequented only occasionally by white boys who dreamed of having the "cool" or "soul" that black men did and by white girls who dreamed of being blacked!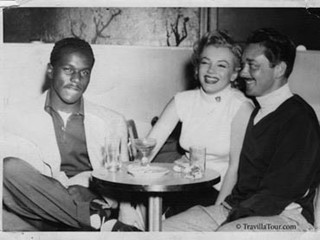 Marilyn Monroe Interracial Controversy
Understandably, Monroe's studio was outraged when they found out about Marilyn's night on the town, especially after it followed hard on the heels of her infamous nude photograph scandal in March of that year and the fact that she had just been on the April cover of conservative Life magazine. Marilyn's secret lust for black men was quickly hailed as the hot Hollywood gossip. As a result of allowing Marilyn's dark lust to be caught on camera, the studio fired Travilla from the film they were working on. But Marilyn – one of Travilla's closest friends – stood up and said "If he goes, I go." And of course, they let him stay, but they were successful in keeping this picture out of the press. Decades after Marilyn's suicide, the photo was found in Travilla's collection. Marilyn Monroe was fearless it seemed. Tragic that if she had been lucky enough to be born 50 years later, she would have been able to publicly indulge her black lust, brazenly declare herself black only and indulge in the massive ebony cock she so longed for.
I think it's something of a misconception that white girls have only begun to lust after black men in recent times. The reality is, their intense lust for big black cock has ALWAYS been there. The problem for women in bygone eras was only that it was less socially acceptable in those days and therefore, apart from the brave and the brazen, the girls were frustratingly forced to repress their burning desires.
Jack Jackson Interracial Lust
For instance, in the 1920s, black heavyweight phenomenon, Jack Johnson shocked the world by parading a succession of beautiful white women as his famed lovers. The white girls adored him and enjoyed the freedom of being the interracial sexual plaything for such a huge, talented and aggressive black man. He also married a white woman (Jackson and wife in photo below) which was extremely controversial for that time.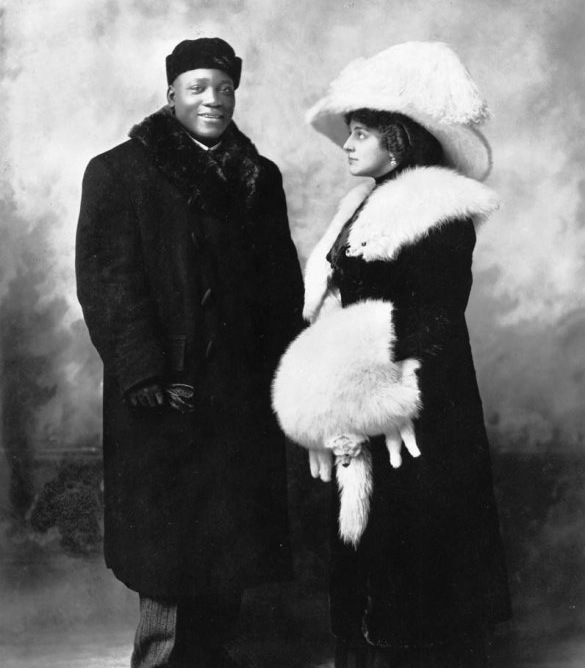 It is inspiring to realize that woman are now finally able to act upon their hunger for black cock without any social stigma to hold them back. Upcoming blog posts here at SarasPlayroom.com will feature more celebrity interracial black cock lust and interracial lust in history.
4 Responses to "Black Cock Lust"
2257 - DMCA Information - Contact - Rights and Permissions


By viewing this site you declare you are at least 18 years of age, consent to viewing adult-oriented material and that it is legal to view such material in your jurisdiction. If not, you must LEAVE now.