Will the Dwyane Wade high school prom appearance set a new precedent for beautiful white high school senior girls to ignore prom date invites from boys at their schools? Will these hot white girls only ask wealthy black ballers to be their prom dates? Nicole Muxo posted her video on Youtube asking Dwayne Wade to be her date for the prom in Coral Gables, Florida. At first, Wade politely declined due to the Miami Heat's schedule in the Eastern Conference playoffs, but then in a surprise turn of events, he showed up at the prom looking ultra fly in his suit next to Nicole in her sparkling golden gown. While this prom date was purely innocent on the surface, below the surface many high school girls are recognizing that black men are superior and that black Alpha male athletes are the ultimate in superiority.
Interracial Cuckolding
Images of white or Latina celebrities with black men as their interracial sex dates, boyfriends, baby daddies or husbands are part of our permaculture now. Think Eva Longoria with Tony Parker, Carmen Electra with Dennis Rodman, Khloe Kardashian with Lamar Odom, to name just a few of the white women with black baller ex-husbands… or current husband in the case of Kardashian and Odom. Even CBS News correspondent Matt Moore noted, "I feel for all the other dudes at this prom. They land a date for prom, shell out money on a tux and then watch as their dates are staring at Dwayne Wade." Interracial cuckolding by Dwayne Wade at the prom! The high school senior girls had their eyes on Wade instead of their own dates! Nicole was smart enough to have a backup date for the prom in case Wade was a no-show and her backup was a hot biracial high school senior. Imagine how her backup date felt in the presence of Dwyane Wade. Cuckolded?
Clearly, even though I've only been out of a Miami area high school for approximately a little over ten years, high school girls today absolutely know the superiority of black men and that interracial lust will undoubtedly continue.
Interracial Prom Date
And speaking of another interracial Prom Date, here we have Barack Obama with his prom date, a cute blonde, Megan Hughes, in Hawaii from 1979.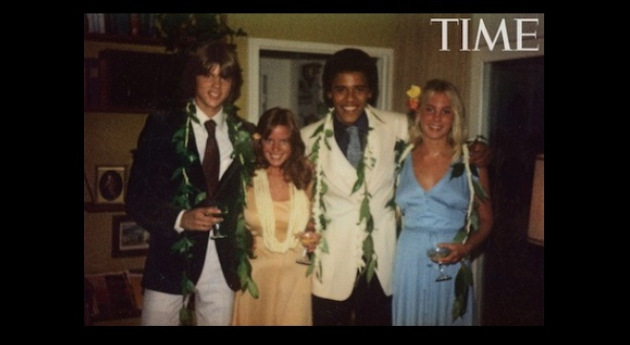 Black on Blonde Interracial Prom Date photo c/o Time Magazine
3 Responses to "Dwyane Wade Prom Date"
2257 - DMCA Information - Contact - Rights and Permissions


By viewing this site you declare you are at least 18 years of age, consent to viewing adult-oriented material and that it is legal to view such material in your jurisdiction. If not, you must LEAVE now.