Many people have followed the relationship of Victoria's Secret supermodel, Heidi Klum, with singer, Seal, and now its ugly break-up. Interracial relationships and marriages have gone from culturally unacceptable and forbidden by law 60 years ago in certain parts of the U.S., to pure fetish appeal to men and sexual fantasy to women. There was no doubt what first attracted Heidi to Seal was his cock size. Heidi has revealed in many interviews that she spotted Seal in a Manhattan hotel lobby wearing bicycle shorts and saw the blaring evidence that he was "a real man". Of course, this meant Heidi is a Size Queen and noticed Seal had a big black cock. But what is even more intriguing and compelling about their first meeting is that Heidi was pregnant at the time by another man, a wealthy Italian Formula One team director and renowned international playboy, Flavio Briatore. Heidi let nothing get in the way of pursuing the black Alpha male BBC stud she craved and cuckolded Briatore by hooking up with Seal. While Heidi's relationship with Seal lasted nearly 8 years, the marriage has closed out in a rather disconcerting way with Heidi stating that Seal's temper is what drove them apart and Seal now claiming that Heidi has been "fornicating with the help", specifically a bodyguard. Is Seal feeling like a cuckold? There is a modern belief only black men can cuckold white men. While this is a popular form of cuckolding, any man can be cuckolded. I've written about reverse cuckolding, which counters this black over white cuckolding model, where white men cuckold black men. Kim Kardashian enabled reverse cuckolding in her first marriage. And now, potentially, Heidi has done both forms of cuckolding by dumping her white boyfriend for Seal and then dumping Seal in favor of a white man.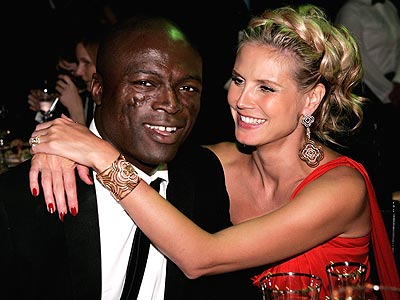 To keep her image, Heidi has strongly denied any relationship, other than a professional one, with the bodyguard, who is white, by the way. However, there is a romantic history of women who have fallen for their bodyguards, who feel the strength in the one man who protects them. Caroline Kennedy married her bodyguard. Princess Stephanie of Monaco married her bodyguard (marriage ended in divorce). But even more well known is the film "Bodyguard" featuring an interracial romance between Whitney Houston and Kevin Costner. The archetype in the royal Princess or celebrity falling for the bodyguard dates back to the Lady being rescued by the dashing Knight. In this case, it may only be an emotional rescue for Heidi as she probably needs a confidante, someone she can share things with, someone who she trusts, like Princess Diana trusted her bodyguard, absence of romance.

2 Responses to "Seal Accuses Heidi Klum Fornicating"
2257 - DMCA Information - Contact - Rights and Permissions


By viewing this site you declare you are at least 18 years of age, consent to viewing adult-oriented material and that it is legal to view such material in your jurisdiction. If not, you must LEAVE now.