Gaywayne, one of my guest blog writers feels that gay guys should have their own gay romance novel series a la 50 Shades of Grey. The concept? 50 Shades of Gay. Fags need their own romantic and bdsm fantasies fulfilled. In the publishing industry, it's now known as Dick Lit instead of Chick Lit.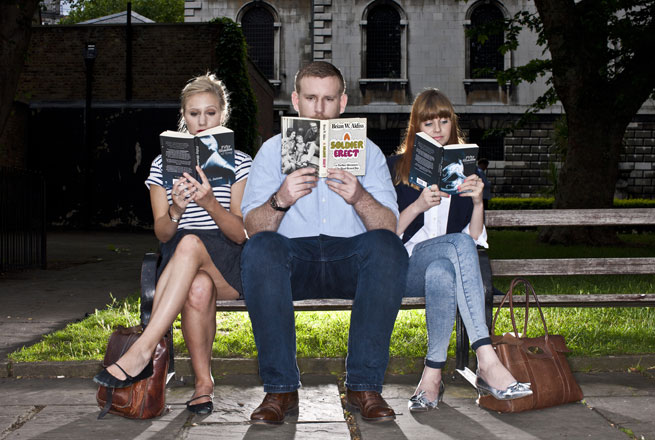 So, Gaywayne has been playing around with an opening to his interracial gay ass novella:
"While Roger was brewing coffee in the kitchen wearing only his long t-shirt that barely covered his ass cheeks, he saw Anthony walking out of the bathroom with nothing but a little towel wrapped around his waist. Then Roger noticed real tears running down Anthony's face, not just that Anthony hadn't totally toweled off from his shower. Roger walked out of the kitchen into the hallway to stop his friend, who he'd known since college, by grapping his wrists and gently asked, "Hey, do you want to tell me the real reason you chose to slept on my couch last night instead of sleeping with your girlfriend at your apartment?"
Anthony broke down even more and sadly confessed that his girl dumped him for another man. A big black man that is. Not only did he do that, but also he told Roger how the black man put his arm around his ex-girlfriend and said, "Hey whiteboy, how does it feel having all your women taken away from you?" Anthony said, "Very small sir." But he meant he felt very "small", not that his endowment was small. The black dude Jherome said, "Show me how small whiteboy. Go down on your knees and pull it out." Anthony told Roger he was drunk and in addition to being drunk, felt so devastated that his girlfriend was over him and he hadn't seen it coming, he knelt down and revealed his dick and it was very small in comparison to Jherome's stud cock. Then he said his girlfriend and her new boyfriend told him he needed to leave or else they were just going to start having sex right in front of him and essentially cuckold him. He said he got up, feeling stupid, and left.
Roger put his arms around his long-time friend and looked deep into his blue eyes and said sweetly, "Anthony, don't you think it's about to explore a new alternative?" Anthony truly needed this emotional support that Roger was giving him, but asked his friend what exactly did he mean. Roger said, "I think you really need to try something new. It's that simple." Roger kissed his friend's lips. Anthony immediately melted with blushing confusion. Roger continued, "Now Anthony doesn't that take some of the pain away?" Anthony, unsure, but surprisingly moved, said, "A little, I guess?" "A little?" Anthony then felt Roger's strong hand cupping his ass and this time gave Anthony a much deeper and wetter kiss. Anthony felt his blood rushing with huge passion. He was finally getting the attention he deeply and psychologicaly needed and wanted. The two men embraced and moaned as they felt their excited cocks press against each other.
Anthony realized in that moment that instead of feeling the shame of small penis humiliation interracial BBC girlfriend revenge, that it was pointless to dwell on it or even think about her anymore. He knew he had to give in to Roger and this new passion he had never felt or even thought of before. And Roger knew he had to make his move now…"
by Gaywayne, edited by Sara
2257 - DMCA Information - Contact - Rights and Permissions


By viewing this site you declare you are at least 18 years of age, consent to viewing adult-oriented material and that it is legal to view such material in your jurisdiction. If not, you must LEAVE now.