The writing is insipid, the story is a modern day bodice-ripper laced with some BDSM to give it an aura of danger and excitement. Most of these fan fiction Kindle romances wilt on Amazon like street corner flowers. So, I almost spewed my iced decaf when I read the author is raking in over a million a week on book sales in addition to the movie rights deal she inked. Honestly, I didn't like the book at all, but I read it. Love 50 Shades of Grey or hate it, E. L. James is taking your love or hate all the way to the bank.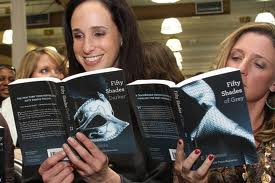 The only passage in 50 Shade of Grey I like and for a personal, selfish reason is that Christian Grey calls his BDSM dungeon a playroom. This gives credence to the concept that I came up with several years ago when I launched my site SarasPlayroom.com as an adult playroom and blog with a Femdom edge. I had originally wanted to name it SarasPlayspace.com since I heard the word playspace used more commonly in the BDSM community. And now the excerpt from 50 Shades of Grey highlighted:
"Does this mean you're going to make love to me tonight, Christian?" Holy shit. Did I just say that? His mouth drops open slightly, but he recovers quickly. "No, Anastasia it doesn't. Firstly, I don't make love. I fuck… hard. Secondly, there's a lot more paperwork to do, and thirdly, you don't yet know what you're in for. You could still run for the hills. Come, I want to show you my playroom." My mouth drops open. Fuck hard! Holy shit, that sounds so… hot. But why are we looking at a playroom? I am mystified. "You want to play on your Xbox?" I ask. He laughs, loudly. "No, Anastasia, no Xbox, no Playstation. Come."
2257 - DMCA Information - Contact - Rights and Permissions


By viewing this site you declare you are at least 18 years of age, consent to viewing adult-oriented material and that it is legal to view such material in your jurisdiction. If not, you must LEAVE now.