…and no, neither of these Kanye West 2 Sex Tapes are with Kim Kardashian. Which might be a good thing actually, since it's well known that Kim Kardashian's sex tape with Ray J was kinky, but boring. Back to Kanye. Kanye West has not one, but two sex tapes being shopped to various sex tape entertainment peddlers who are submitting bids to buy the tapes and release them. One tape is in the 20 minute range and the other is up in the 40 minute range. In typical celebrity sex tape length, these are considered long interracial sex videos and could make whoever releases them quite a chunk of change. What isn't clear to the media is exactly who's shopping these tapes. The two tapes each feature different female lovers. And rumor has it that Kim Kardashian isn't happy about these tapes circulating while she's involved with Kanye. Pot Kettle Interracial Black?
So, there are three potential scenarios: 1. Kanye West has someone "shopping" the sex tapes for publicity purposes with no actual intent to release the tapes. He has been dropping tunes lately, so it wouldn't be surprising that this whole scenario is thug theater. 2. The chicks are shopping the sex tapes, because they need cash. 3. Someone stole the sex tapes and is brokering them.
If these sex tapes hit the net, they will obviously be viewed many times by BBC interracial sex lovers. If the tapes are not being shopped as a ruse to create buzz for Kanye, he could obviously pay off the girls in the sex tapes or sic his lawyers on the thief who stole them, ditto any potential buyer to squash the release of the interracial sex tapes. The outcome is yet to be known at this writing; although, the tabloids are sure to be hot on the trail of the Kanye sex tape mystery seller.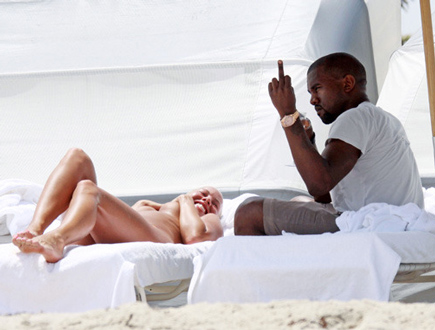 3 Responses to "Kanye West 2 Sex Tapes"
2257 - DMCA Information - Contact - Rights and Permissions


By viewing this site you declare you are at least 18 years of age, consent to viewing adult-oriented material and that it is legal to view such material in your jurisdiction. If not, you must LEAVE now.