Peewee cuckold, renowned guest blogger from the UK, has made a triumphant return with his stunning version of the classic game of chess, interracial style! And it's exclusive to my Sara's Playroom blog. You won't find it anywhere else online! Play the Checkmate Game now and post your results in the Comments below. It's absolutely free to play, it's not a Niteflirt Pay to View Game, so get your game on right now. But be prepared for cuckold white boy loser humiliation.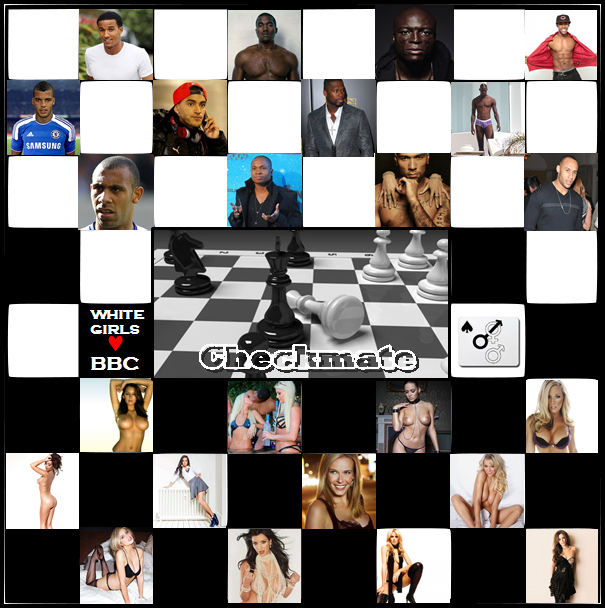 From peewee cuckold: A few clues for the players. The chess board includes the white pieces and the black pieces – in this case making up legitimate black cock lovin' Size Queen beauties – and their big black lovers – from the entertainment industry or sports. How many of the pairings can your SarasPlayroom.com blog readers name I wonder…
When I put the chess game together, the chess board – and the checkmate status – also symbolically sum up the fallen position of the white boy. You see – the prettiest and most influential pop star, actress, celebrity, playmate, supermodel, reality star, big brother contestant, page 3 girl, glamour girl, comedienne, blonde twins and FHM's reigning sexiest woman are all famed for their passionate love of well hung Alpha black men. Which has every position covered and the only move left for the white boy is to submit and surrender to being a cuckold! You can envision the powerful Black King knocking over the last chess piece the white boy has on the board. Checkmate indeed!
3 Responses to "Play the Interracial Sex Checkmate Game!"
2257 - DMCA Information - Contact - Rights and Permissions


By viewing this site you declare you are at least 18 years of age, consent to viewing adult-oriented material and that it is legal to view such material in your jurisdiction. If not, you must LEAVE now.