Part of me, the slut in me, wishes I had done such a comprehensive Fuck List when I was in college, but there is no way in small dick hell, for the sake of research, I would have fucked or sucked small penises. Karen Owen, now infamous Duke University student sex researcher, and her PowerPoint Fuck List presentation, are creating a stir in every nook and cranny of online forums, blogs, tabloids and social networking sites. While some college students would have dismissed Karen Owen as a "Jersey Chaser", a slut who specializes in fucking college jocks, Karen overrides jersey chasing by detailing the mating ritual of douchebag jocks. In this photo, Karen shows us what she's working with.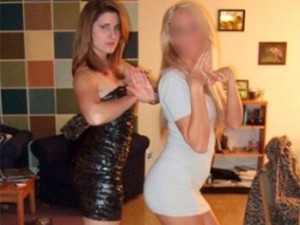 On her Duke F-List, Karen tells us what her fucks and sucks are working with, and most of them, no surprise, have small dicks, are quick-cummers or deadfucks. And the Duke douchebags just seem to have used the Duke Fuck List slut as a live sex doll to selfishly self-pleasure their small penis. Now their small penis humiliation will live on in cyber perpetuity. I've heard some have tried to get their images and personal details removed from the small penis humiliation and sexual performance embarrassment of the Duke Fuck List. So far, efforts have failed and the Duke douches will just have to deal with the stigma of being known as one of the guys on the Duke Fuck List, being humiliated for having a small penis, or not being able to last more than 5 minutes.
My favorite Fuck List jock douche is #16. #16 was a Duke University baseball player who was recruited by the Boston Red Sox. While Karen had her slut tentacles out to fuck this cute jock (I admit he's cute) while he was still on campus, she nails him on a return to Duke.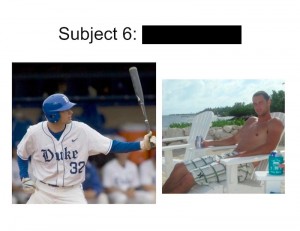 She, like me, did find him cute, with a great body (I admit he does have a great bod), but then she recounts he lacked penis size and the whole time he was banging her, he wanted her to scream out how much she loved big black cocks and how she had fucked big black cocks. Yes, he wanted her to cuckhold him while fucking his small dick. Even though she confesses on her Fuck List that she hadn't done a big black cock, to play along with the baseball jock's overcompensation for having a small penis and homoerotic lust for big black cock, she complies by verbally cuckolding him.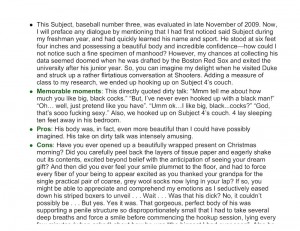 If it were me, the moment I spied his little penis, and he revealed his lust for girls who fuck big black cocks, it would have been time for cuckold small penis humiliation and big black cock worship. I would have whipped out my big black strap-on cock and cuckolded him. I would have informed the cuck that his little penis wasn't worthy of my pussy and that deep throating a big black cock was his small dick humiliation cocksucking cuckold destiny.
2 Responses to "Small Penis Humiliation Fucklist"
2257 - DMCA Information - Contact - Rights and Permissions


By viewing this site you declare you are at least 18 years of age, consent to viewing adult-oriented material and that it is legal to view such material in your jurisdiction. If not, you must LEAVE now.