I must reveal that I have never watched Jersey Shore for fear of being infected thru my tv screen by orange spray-on tan-sicles and guido-sis. Curable afflictions, but best to avoid. However, it could not be avoided when the Jersey Shore closed the distance from tv screen to invading my space, no not Myspace, but my space. The Jersey Shore cast threw Miami Beach into a frenzy when "they" were taping down here. It seemed like everyone wanted to know where "they" were, as in what clubs "they" were partying at, and wondered aloud what "they" might be doing hour by hour. Let me add that the Jersey Shore frenzy in Miami Beach was not entirely a bad thing, since any cash infusion into the wreck-onomy down here was like setting an IV line on fast drip.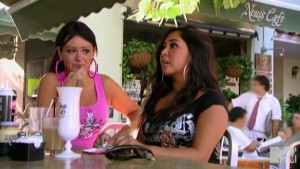 One nite when my BFFs and I were out, the convo turned to the Jersey Shore. Specifically who we thought had the biggest cock of the dudes on the show, who was the biggest dick on the show and if anyone had spotted any cast members. Taylor had seen the oompa loompas known as JWoww and Snooki. She said Snooki was so tiny, really petite. Then again, everyone looks larger than life on the tv screen. Not one of us had seen any of the dudes on the show. Back to Jersey Shore dudes penis sizes or lack thereof.
Comments:
Nicole: The Situation –> All Abs, No Action!
Ember: The Situation –> But he's cuuuute!
Taylor: The Situation –> I'd be seen with him!
Nicole: The Situation –> But would you fuck him?
Taylor: The Situation –> I'd like to fuck someone famous to try it out.
Nicole: Taylor –> Starfucker!
Sara: Vinny –> Supposedly has the biggest penis.
Nicole: Vinny –> Snooki said it was like trying to fit a watermelon into a pinhole!
Taylor: Vinny –> Are you fucking kidding me?
So one Jersey Shore dude is blessed with a huge watermelon size peen. Snooki also joked Vinny was going to have his huge cock molded and made into a signature dildo to sell. What is the saying: must strike while the 9 iron is hot! Another Jersey Shore guido has to bear the brunt of small penis humiliation…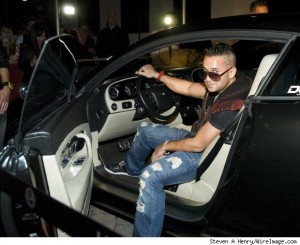 And in full force online, as Melody Eckerson, a bleach blonde Barbie-esque clone "wannabe" Miami club promoter, sold her soul to the tabloid devil, Star Magazine. Talk about SPH, Melody revealed that The Situation does not have much of a Situation in his manderwear. Neither size, nor staying power. Melody the Starfucker confessed that her experience with Mike "The Situation" Sorrentino "couldn't even be called a one-night stand, because he only lasted a few minutes." When queried about his penis size, she responded she was thinking of her pinkie finger! LMAO. Now that's some brutal small penis humiliation!
If The Situation drove a red Bentley, he'd be on my other site Red Car? Small Penis!, but he showed some automotive "new money" snobbery, as he just bought a black Bentley. Perhaps Bentleys don't come in small penis humiliation red? Reports are that he is tricking out his ride. Is pimping out one's spendy whip compensation or consolation for having a tiny cock?
One Response to "The Tiny Cock Humiliation Situation!"
2257 - DMCA Information - Contact - Rights and Permissions


By viewing this site you declare you are at least 18 years of age, consent to viewing adult-oriented material and that it is legal to view such material in your jurisdiction. If not, you must LEAVE now.