As if everyone didn't know that it would be… The dynamic duo of pornstar Devon James and her cuckold husband Nick James were teasing the media with a reported 62 minutes of interracial sex footage of Devon doing it with Tiger. Instead it turned out to be 62 minutes of footage with Devon doing it with a not so realistic Tiger Woods lookalike, a cruiserweight boxer from Philadelphia, Teneal Goyco, pictured on the right in the photo below.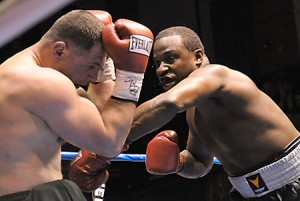 Goyco was interviewed about his part in the porn video and relates how the couple approached him directly about being in an amateur sex video and dangled $1,000 for about an hour of his time. Since his skin was darker than Tiger's, make-up was applied by the couple to lighten his darker-than-Tiger skin tone for the camera. He relates how he was told by the the hotwife Devon that it was her personal fantasy to have black on blonde sex with Tiger Woods. The hotwife and cuckold gave him Nike gear and a golf outfit to sport before he went naked and fulfilled Devon's "fantasy". Her cucky hubby watched and videotaped the event. Teneal didn't even know hotwife Devon was a porn star or that he was co-starring in an interracial cuckold sex porn video! Hmmm didn't he sign a release? Vivid Entertainment turned down the interracial sex footage. And now Teneal has a lawyer who is looking for a bigger paycheck on his client's behalf for his appearance in the black on blonde porn video and claiming that his client was duped by the James.
The Tiger Woods sex tape website is currently taking pre-orders, but the irony is, in the meantime, the James have declared bankruptcy. So who knows if this cuckold interracial sex tape will ever be released.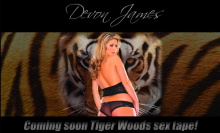 The cuckold husband is claiming there are currently 150,000 pre-orders at $29.95 each. If 150,000 pre-orders isn't enough to press some interracial sex DVDs or release some black on blonde video downloads, what is the threshold the porn distro company is requiring before the Tiger sex tape is released? No online teasers have even appeared. Perhaps this was all part of an elaborate scheme by the former Tiger Woods mistress pornstar and her cuckold husband to Pull the Tiger by Its Tail and seek ex girlfriend revenge. And also to see if there would be an ex gf revenge pay-out if Tiger believed there actually was footage of him doing the nasty with the hotwife pornstar with whom he had engaged in interracial sex trysts.
2 Responses to "The Tiger Woods Sex Tape was Fake? OMGOMG"
2257 - DMCA Information - Contact - Rights and Permissions


By viewing this site you declare you are at least 18 years of age, consent to viewing adult-oriented material and that it is legal to view such material in your jurisdiction. If not, you must LEAVE now.