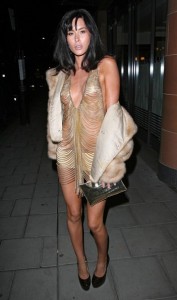 British model and LA party girl Jasmine Lennard has given us a glimpse of well, not only did she give us a glimpse of Cristiano's little crissie, but also a glimpse into his sex, lies and Skype dates. Jasmine met Crissie at a celebrities only club in LA and claimed he pursued her relentlessly. Ironically, she wasn't interested in hooking up with him due to his tight outfit (shorts and shirt) and because the color of his ensemble was sissy pink! She also claimed she didn't want to be in his harem of who he called "sexy time" women he continually texted and scheduled time slots to do Skype cam sex shows with him. As for lies, she detailed that Crissie can speak and understand English when it's convenient, but when it's not, he pretends he can't.
But Crissie kept in pursuit of Jasmine. Perhaps the most famous soccer player in the world can't take rejection? And Jasmine eventually caved in. Though it appears she has now cashed in with her tell-all story to well-known British tabloid, The Mirror.
Jasmine picked up Crissie from his LA hotel in the nude, yes, nude in her Lamborghini Murcielago. Modeling must be paying off, rather, paying off the Lambo. But now let's get to the sex! Jasmine complained she didn't want to feel like "more of a man than the man I'm in bed with." Then why did she sex up Crissie a.k.a prissy in pink? She went on to confess while she wasn't attracted to him, she enjoyed that Crissie was so "taken" by her, that it was a "power trip". When she caught her first glimpse of full frontal Crissie, what she saw was shocking. She explained most women appreciate men with sizable endowment, but what Crissie sported was RIDICULOUS. (Yes, caps lock was on.) At that point all Jasmine wanted to do was get it over with. But as it turned out, Crissie's pre-dick-ament wasn't just lack of size. Jasmine concluded, "I wondered how long it would take. Not long was the answer…"
I think Jasmine is not only playing the "fuck and tell" game for cash, but also popping in some clever small penis humiliation!
One Response to "Cristiano Ronaldo – Sex, Lies and Skype Dates"
2257 - DMCA Information - Contact - Rights and Permissions


By viewing this site you declare you are at least 18 years of age, consent to viewing adult-oriented material and that it is legal to view such material in your jurisdiction. If not, you must LEAVE now.