I'm all for a wife being into her husband's fetish or vice versa or a couple pursuing a shared fetish. Although if all wives indulged their husbands' fetishes, I'd certainly be "out of a job". So I found it fun to watch some of the foot fetish video clips which New York Jets football coach taped of his wife's feet, most of which he narrated while she showed off her cute tootsies for the camera. Deadspin revealed that the couple supposedly had a kinky profile up at ALT.com in addition to the foot fetish video clips featured online. While in retrospect, for a couple who had a lot to lose if such private clips were made public, these clips should have been for their eyes only, but apparently part of their fetish was voyeurism. These clips were posted at foot fetish sites and forums. So it would only be a matter of time before someone not only recognized Michelle Ryan, since she wasn't wearing a disguise, but also recognized Rex Ryan's voice.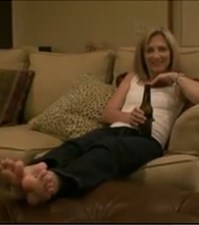 Reactions to the foot fetish clips have run the gamut from: gross to hey at least he's doing it with his wife! And I'd have to agree with the latter. When most recent sex scandals involving sports figures involved naughty activity with other women, forgiving Rex Ryan for having a foot fetish which he indulges with his own spouse, seems simple. However, the media has been unforgiving with the foot puns. "Well it is football…" "Were both feet in bounds?" "No small feat for the Jets" "A foot shy of the first down" …
But the big news of the past few days was that more foot fetish clips surfaced of a slightly different flavor, interracial foot play, where a black man admires, sniffs and massages Michelle Ryan's feet after removing some very slutty designer black patent leather high heels. Interracial Foot Cuckolding!
As some of my blog readers may remember, on the original Sara's Playroom blog, I explored several theories behind foot fetishism. One theory puts forth that the foot is the phallic symbol on a woman's body and allows a man with repressed or latent homosexual tendencies to experience the closest thing to cock without the guilt that a man might feel if he were performing a gay act. The addition of the black man in the Ryan foot fetish scenario worshipping Michelle Ryan's feet can be interpreted as an interracial cuckolding act, but also may lead to other conclusions depending on how the nature of the foot fetish itself is interpreted. In addition, if the ALT.com profile screen captures on Deadspin was for real, they also listed: collar and leash play, physical and verbal humiliation, spanking, tickling and voyeurism as some of their other interests.
One Response to "Rex and Michelle Ryan – Interracial Foot Fetish Video Clips!"
2257 - DMCA Information - Contact - Rights and Permissions


By viewing this site you declare you are at least 18 years of age, consent to viewing adult-oriented material and that it is legal to view such material in your jurisdiction. If not, you must LEAVE now.